Help carry the flag!
Marshals are needed for 2022 walks. If you can help with marshaling, please fill out our marshal volunteer form.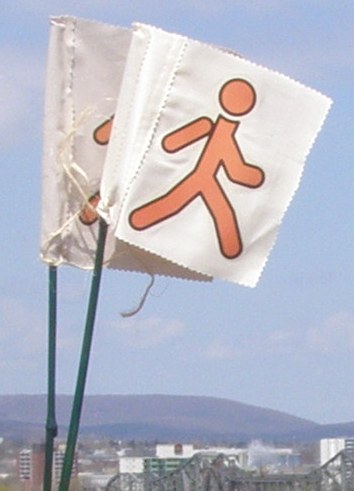 Jane's Walk Ottawa-Gatineau is now bigger than ever, and we need volunteers to help make it great! We need Marshals for the walks, and there are lots of other ways to help. See the list below for information on ways to help out.
Jane's Walk Volunteer Opportunities
Walk Marshal
Marshals help Jane's Walk run smoothly by assisting the walk leader to manage the group, carry flags, count heads, etc. Marshalling is easy, and a marshal also gets to enjoy the walk experience as a participant. Marshals give a short introduction to Jane's Walk and the walk leader, carry flags so people can see where the group is going, keep the group together, keep an eye on safety (for instance, at traffic lights), and report back to us after the walk on the number of people who come to the walk and whether everything went smoothly. We provide each marshal with a kit containing all the information needed.
If you would like to be a marshal, please complete the marshal volunteer form here.
Walk Leader
Walk leaders are the very heart of Jane's Walk. If you would like to lead a walk, you can submit a walk idea by filling in our submission form, or if you prefer you can get in touch with us through the volunteer form or email (right-click to copy the email address) to discuss a walk idea.
Pre-walk promotion
Promote walks through social media (Facebook, Twitter, and Instagram), email lists, writing articles in local media, help staff information booths for Jane's Walk, and generally getting the word out.
Postering
Help us advertise our May festival by putting up Jane's Walk posters around your neighborhood. We'll provide the posters, you provide the postering skills!
Wrap up party
Help decorate the venue, greet people as they arrive, hand out info about Jane's Walk, help with the door prize draw, etc.
Translation
We work hard to make Jane's Walk a bilingual event, but getting the word out in two languages is challenging. If you are fluent in French and English, you could help us bridge the linguistic divide.
Photography
Got a camera? We need people to take pictures along any and all of our walks. If you have pictures you'd like to share with us, please send them to us as email attachments (right-click to copy the email address).